You can help
We are working hard to ensure a better future for birds across New Zealand.
To do this, we need your help! Whether you're a member of the society or not, you can always make a donation. We will channel every dollar we receive from donations into our Projects Assistance Fund, so you can be confident that your gift will have a real impact, both now and in the future. You will help us continue to work of the society and make sure that birds have a voice for years to come.
Make a donation
The Society is a registered charitable entity CC41020 and tax credits are available for donations made in New Zealand. You can donate in several ways:
Buy a Gift Voucher
Why not gift someone a Birds New Zealand membership subscription?
Details about membership options and benefits are available here.
Just choose a plan and email us!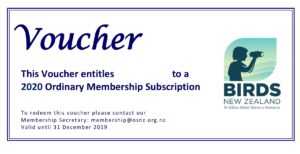 Leave a gift in your will
It is important to have a will to ensure that your wishes for
your estate are carried out and to minimise the chances of your wishes being contested. It is important to consult your solicitor, Guardian Trust or Public Trust office for advice in drawing up your will. A general gift gives us the flexibility to direct funds where they are needed, but we are also very happy to discuss options if you would like to leave a gift in your will towards a specific purpose.
There are a couple of ways of supporting us in your will:
Specific Legacy: You may wish to leave a specific amount of money, shares, bonds, items or a nominated gift to the Society.
Residuary Legacy: You may wish to leave a gift of all or part of your net estate (what remains after all taxes, specific gifts to family and friends and the cost of administering the estate have been paid). This type of legacy should be expressed as a percentage or share of your estate.