Past Conferences and Abstracts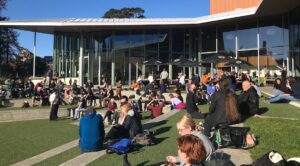 The 2022 New Zealand Bird Conference and Birds NZ AGM was held in Christchurch from 4-6 June. It was a fantastic event, with nearly 200 people gathering to discuss all things birds. Attendees were impressed by the high quality of the presentations, including plenary talks from Jim Briskie (UC) on potential perils of Predator Free 2050 for birds. Colin Miskelly showcased the publication of the 5th Edition of the Checklist of the Birds of New Zealand, the authority for bird names and taxonomy in Aotearoa. Presentations covered avian physiology, conservation monitoring, impacts of pollution, the use of genetics/genomics for conservation, and much more across a range of bird species and habitats.
A Robert Falla Award was presented to Graeme Taylor for his sustained contributions to the study and conservation of seabirds and service to the Society. Several Meritorious Service, Notornis and Conference awards were presented – a list of the awards can be viewed here
Birds NZ members can sponsor students to attend through the Fledgling Fund. For more on the conference experience from one such student, read Wellington University PhD student Imogen Foote's conference report
Scientific abstracts from the conference are available for download here
For abstracts from previous conferences please scroll down.
Minutes of the 2022 AGM will be available soon.
Previous Conference Programmes and Abstracts