Past Conferences + Abstracts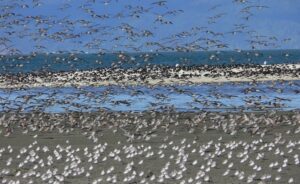 The 2022 New Zealand Bird Conference and 83rd Birds NZ AGM will be held in Christchurch from 4-6 June!
The 2021 New Zealand Bird Conference and Birds NZ AGM, held in Thames from 5-7 June was a fantastic event and the largest one in the Society's history! At the 81st Annual General Meeting, three notified motions were passed and Natalie Forsdick stepped up into the position of Vice President.
Fellowships were awarded to Dr Murray Williams and David Lawrie in recognition of their contribution and lifetime commitments to the Society and study of birds in New Zealand. A Meritorious Service Award was presented to Bruce Mackareth for his long-term commitment to shorebird surveys around Coromandel. Rebecca French received a "Notornis Student Award" for the best 2020 student paper; Jacque de Satge a "Conference Student Talk Award"; Annie West a "Conference Student Poster Award" and Sara Coutinho a "Conference People's Poster Choice Award".
Minutes of the 2021 AGM will be available soon.
For abstracts from previous NZ Bird Conferences please scroll down.
© Fellowship recipients Dr Murray Williams and David Lawrie
Previous Conference Programmes and Abstracts